Through Patti's thought provoking and inspiring workshops you can connect to impulse.

Play with fearless joy. Inspire your partners. Develop strong technique and narrative skills. Explore the creative possibilities of improvisational theatre.
INSPIRING PLAY
Play in the spontaneous moment! Turn off the internal critic, trust your impulses, fail good naturedly and feel the inspiration that freely comes as a result!
SKILLS ATTACK
Every level of improviser benefits from a workout in the basics. Skill up or break bad habits as we work and review Blocking, Acceptance, Offer, Wimping, Cancelling, Hedging, Sidetracking, Instant Conflict and more.
GIFTS TO INSPIRE YOUR PARTNERS
Improvisers who inspire, surprise and delight their partners are the most fun to play with. How do they do this magic? This workshop explores exercises and techniques to help you delight, surprise and inspire your partner. How to change them, affect them and watch them light up!
MECHANICS OF SCENE WORK
Develop and strengthen your skills in developing Platform, awareness of the promises in a scene and the circle of expectations, spot whose scene it is, advance the scene, raise the stakes and find satisfying endings.
NO ISN'T ALWAYS A BLOCK - SOMETIMES THE BEST YES IS A NO!
Learning to accept each other's offers is vital in improvisation. However, many improvisers end up being trained in a 'Pavlovian' response to create improvisation through saying yes! to everything without understanding the offer or the story. This workshop will show you that sometimes the best Yes is a NO!
STATUS
Status is an essential tool for every improviser. Understanding status and how to play it gives the improviser the tools to build tension or create comedy. On stage relationships look void of any really connection when status play is not present. All great comedy duos are in constant status play. This workshop may involve being hit by balloons.
SCENES THAT MATTER
Improvisational theatre can provoke the audience to question their own beliefs by presenting stories from a different point of view that may makes us question our beliefs. Where the unimaginable becomes understandable and the wrong may seem right.
This workshop uses challenging subject material and language that some may find confronting.
GENDER / GENRE
Many of the genres we perform reflect out dated social rules heavily categorised into male and female behaviour. Today's world is different yet our storytelling is still shackled to these historical gendered roles. What if we don't play the expected? Do the stories remain genre 'true' regardless of actor? By questioning, challenging and exploring our gender bias, and understanding the purpose of characters in stories, we break open new levels of impro play and possibilities. The effects are really quite interesting.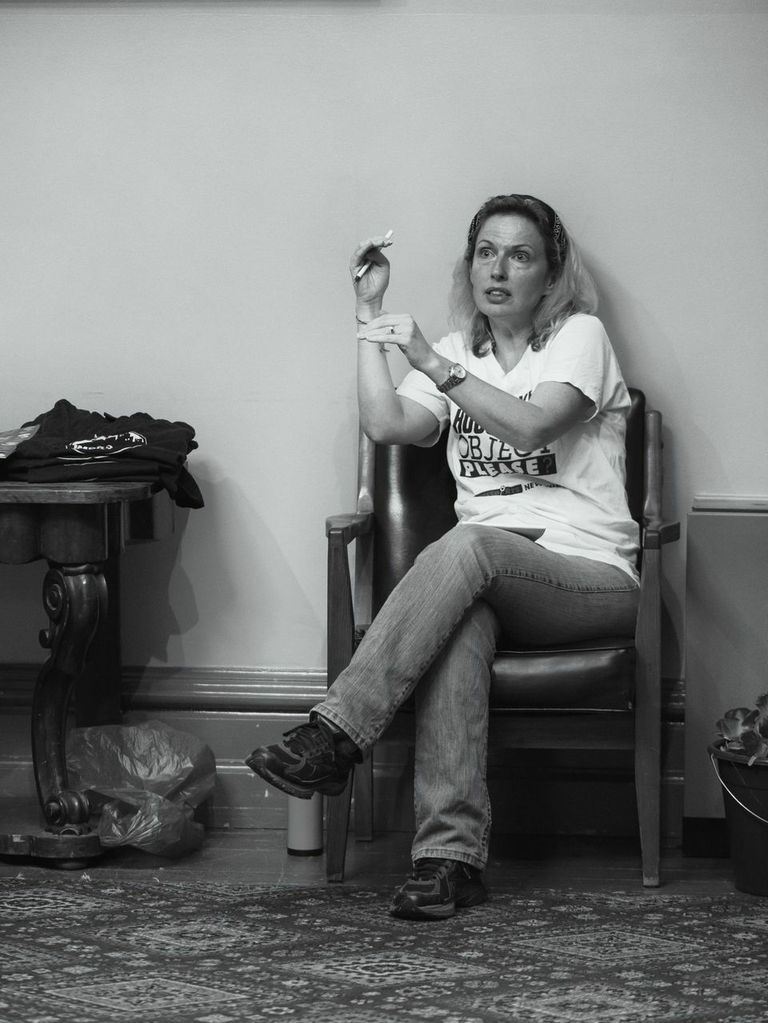 GIVING AND RECEIVING NOTES
Notes are imperative to our development as improvisers. We need information from an outside eye to put our onstage experience into perspective. Through a simple and clear system your group will be able to appreciate the benefits of giving and receiving notes.
JUST FOR YOU
Just For You is designed for a company that works together.
Your company is a unique group of actors. I find it is so valuable to start by seeing the group and how you play and connect. Then I can share my experience and skills and together we create a challenging workshop which develops your company. Short form, long form, narrative, character, skill strengthening, group dynamics, format rehearsal..lets unlock the next step.
DIRECTING
Patti frequently works with companies in a director role. Groups such as Austentacious (UK), Smoking Sofa (FR), B.L.U.E. the musical (IT), Improverket (SW) regularly book Patti to come work with them to improve their improvisation skills and show.
MASTER CLASS ON YOU
Master Class is designed for the experienced improviser and is focused on providing specific feedback on the individual from an experience outside eye. We look at strengths, patterns and habits. The aim is to bring a greater awareness of your work, provided challenges and open areas for growth.
NAUTICAL ADVENTURES - MINIMUM 3 FULL DAYS
Nautical adventures will focus on the great legends and lore from the sea: maritime stories of heroism, tales of great deeds, quirky superstitions, fantastic creatures, the human relationship to the sea and sea voyages and the psychological struggles of the individual in the hostile environment of the sea.

The format is an ensemble piece of theatre requiring students to do some research before coming into the workshop.
QUOTABLE WOMEN - FOR ALL WOMEN - MINIMUM ONE DAY
Quotable Women was created by Patti Stiles to acknowledge and celebrate women who inspire us from all walks of life. The actors are asked to share quotes from notable women throughout history, or people in our own lives, that connect with them personally as a stimulus. The result is a celebration of powerful female voices, triggering the imaginations of a female cast, in a space allowing the cast to step into the challenge of playing characters and stories which they may not normally encountered in other improvisational forms.
The format requires the students to do some research before coming into the workshop.